Your Savings Account is the initial account opened when you join TUMCU and allows you to gain membership and ownership to the credit union. It is an excellent place to save for both the long and short term. A minimum deposit of $5 is required to open the account, and when you join, we will place the first $5 in your account for you!
---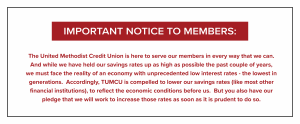 Current Savings Rate
Dividend: 0.1 %
APY: 0.1 %
Effective 5/17/2021.
Dividend rate and APY are paid monthly on the average daily balance. APY is Annual Percentage Yield.
---
Your savings are federally insured to at least $250,000 and backed by the full faith and credit of the United States Government by the National Credit Union Administration (NCUA).