COVID-19 Church Emergency Loan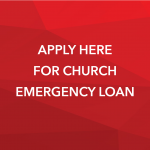 TUMCU is offering churches emergency loans of up to $10,000 at a fixed rate of only 4.00% APR (our lowest church loan rate). The repayment term can be up to 24 months from the first payment – which we are deferring for 60 days because of the COVID-19 situation.
Just download and complete the abbreviated form that is linked here, and return the signed document to us via email at creditunion@tumcu.org. We will then send it to the appropriate District Superintendent for final approval and electronic signature. When it's returned, we can credit your account or send you a check for the loan proceeds.
If your church is not a current TUMCU member, you will have to apply for membership first. You can check our membership eligibility requirements here, and you can then apply for membership here. We advise that you give us a call at the number below to assist you through each step of the membership application process.
Please call us if you have any questions at (866) 657-0004.