COVID-19 Relief for VISA Cardholders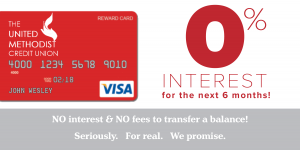 IMPORTANT: You MUST be a TUMCU member first before applying for a credit card or transferring a balance. To see if you qualify for membership, click here.
Times have been difficult the past few months, and members are looking for help. To get you and your family through the fall and winter months, we are reducing interest rates on all VISA card purchases to 0% for the next six months! Yes, we really mean 0%. No interest and no fees to participate. And if you have a credit card balance somewhere else that's keeping you up at night, you can request to transfer it to TUMCU and get the same interest rate for six months (if qualified)! There are no fees to transfer a balance. And to keep the hassle to a minimum, there is no 'registration' necessary – all current TUMCU members will automatically get the 0% rate for purchases made between October 29, 2020 and April 28, 2021. We thank you for your business, and we are happy to help our members with this program. Please call us with any questions or concerns.
---
Request a balance transfer here: https://www.tumcu.org/balance-transfer-request/.
Individuals can request a credit card here: https://www.tumcu.org/visa-credit-card-application/.
Churches can request credit cards here: https://www.tumcu.org/credit-cards-for-churches/.
For more details, qualification information and other disclosures, please follow this link: https://www.tumcu.org/important-information-regarding-tumcu-0-visa-card-offer/.
Posted by Parker Eads in Blogs.
---
Comments